Education Solutions' Vice President Pepe Carreras Discusses Helping Education Go Further!
In April, the National Student Clearinghouse named Pepe Carreras as Vice President of Education Solutions. In this role, Mr. Carreras is responsible for the strategic oversight and leadership of the Clearinghouse's Business Development, Service Innovation Networks, Grants and Program Management, and Product Management Divisions. Discover more about him and his thoughts on helping education go further!
What is one thing you discovered about the organization that you wish everyone knew?
The Clearinghouse is a small but mighty organization with the power to improve education outcomes, learner opportunities throughout the education to workforce continuum, and business connectivity to excellent talent. The people are incredibly smart, the mission is ambitious, and the possibilities are truly endless.
Tell us about your background and what attracted you to join the National Student Clearinghouse?
For 30 years I have dedicated my career efforts to building successful organizations by assembling strong teams, analyzing/leveraging market intelligence, creating executable strategies, fully levering relationships, and successfully advancing organizational objectives. For the last 15 years as an owner-entrepreneur, a senior member of two education organizations, and board member — thru informed innovation, strategic focus, and a collaborative leadership style — I've lead teams that have delivered significant growth for these organizations, even in times of great adversity.
More importantly, the teams I have worked with have positively impacted the lives of millions of students from around the world while significantly improving education outcomes. I wholeheartedly believe that my passion for education and firsthand knowledge of the impact that actionable insights can have on learners of all ages is the main reason I joined the Clearinghouse. Given the data we have access to, there are many opportunities to influence and improve learner opportunities, and with it potentially help to improve both education outcomes and hiring and recruiting business practices.
What are the biggest challenges facing college administrators?
There are two equally large challenges – environmental and academic. The environmental is challenging schools, given present unpredictability — national unrest and political disagreement — to ensure students feel both welcome and respected within the school communities they are joining. The academic, given changing business models, is challenging schools to increase completion rates and student development, while managing growth, maintaining affordability, and continuing digital transformation.
How will the Clearinghouse help registrars and other administrators address and specifically solve these challenges?
The Clearinghouse provides access to data that empowers registrars and administrators to make more informed decisions about their students.
For example, our data may help institutions find the students that are more likely to complete their courses, and this may help improve completion rates. Additionally, our services currently provide cost-effective ways to do some of the work they would likely need to hire others to do, among other things.
As we think about how to continue to best serve all of our constituencies, we will need to find among the many diverse challenges that exist, solutions that, within the context of our mission, seek to both strengthen and innovate our products and services.
A year from now, considering the COVID19 environment, what do you hope you and the Education Solutions division will accomplish for learners, education authorities, and workforce communities?
Covid-19 has changed both education and business landscapes forever and Ed Solutions needs to plan for both the maintenance of our offerings as well as new growth within this new context. But the pandemic aside, Ed Solutions has work to do to define a growth strategy for the next four years, to organize itself to ensure effective execution to serve our constituents, and to begin to work on this plan. At a high level, this will involve growing transcript offerings, launching Myhub and converging StudentTracker enhancements, and Postsecondary Data Partnership, among others. And that is just the beginning!
What advice do you have for college students?
College is about a lot more than subjects. It is a place to learn how to learn and apply the learnings to innumerable situations that both work and life will bring. Find your passion while gaining greater expertise in language and math skills. Enhance your soft skills — especially problem solving, teamwork, leadership, conflict resolution, and flexibility. The combination of these hard and soft skills will prepare students to work with technology that is yet to be invented, jobs that have yet to be defined, life-long learning and anything that life might bring.
Soon, students will be able to match their skills and attainment to career positions they are pursuing to make smart decisions about how to invest in additional education or credentials that will pay off down the line. The future is bright for those who keep on learning. Above all, seek to be happy and the rest will take care of itself.
Outside of the Clearinghouse, what do you do for fun?
I love being outside, especially if it is to play tennis or go for a long bike ride with my wife. Also, because of my background and previous work experience in Puerto Rico and Latin America, I enjoy visiting any number of favorite Caribbean islands.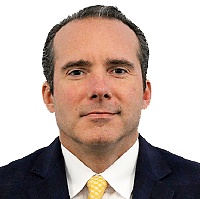 As we think about how to continue to best serve all of our constituencies, we will need to find among the many diverse challenges that exist, solutions that, within the context of our mission, seek to both strengthen and innovate our products and services.
Pepe Carreras
Vice President of Education Solutions