Class of 2022 FAFSA Completions Rebound, Climb 4.6% Year-Over-Year
After two years of gloomy news around FAFSA completion and college enrollment, the high school class of 2022 finally provides us with some encouragement, according to the National College Attainment Network (NCAN).
Bill DeBaun, NCAN's Senior Director of Data and Strategic Initiatives, reported that through July 1, high school FAFSA completions are up 4.6% year-over-year, representing roughly 92,000 additional applications. NCAN estimates that about 52.1% of the senior class completed a FAFSA, exceeding the classes of 2020 and 2021 but falling short of the pre-pandemic class of 2019's FAFSA completion rate at the same time (53.8%).
"The bounce back in FAFSA completions is encouraging, especially given strong performances of low-income and high-minority public high schools," DeBaun stated to the National Student Clearinghouse. "Although we aren't back to pre-pandemic FAFSA completion, the more we can restore pre-pandemic levels of advising, the college-going milestones will likely follow."
In DeBaun's blog post, he says the class of 2022's FAFSA completion increases were driven by strong year-over-year gains from low-income public schools (+9.1% year-over-year), where more than half of students are eligible for free- or reduced-price lunch, and high-minority public schools (+9.0%), where more than 40% of students are Black or Hispanic. Both high school segments experienced FAFSA completion declines in the previous two cycles.
This good news about the class of 2022 stands in stark contrast to the most recent data available about overall and renewal FAFSA applications. That data, which is only available through March 31, showed that overall FAFSA applications for the 2022-23 academic year were down nearly 9% while renewals were down more than 12% year-over-year and Pell Grant-eligible renewals by nearly 16%.
Beyond FAFSA data, the National Student Clearinghouse Research Center's reports related to postsecondary enrollment, both overall and for high school seniors specifically, have also demonstrated substantial declines over the course of the pandemic. NCAN anticipates an update to these data at some point this summer.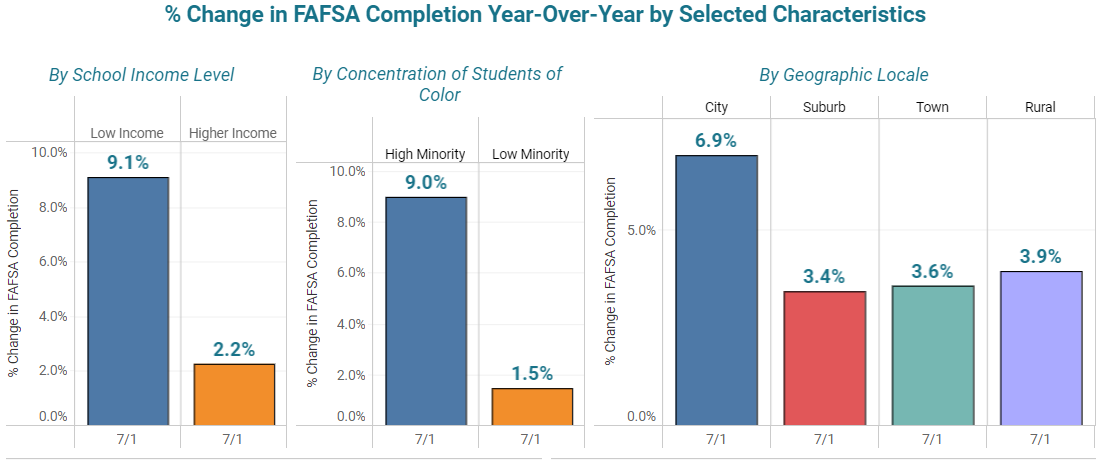 "Although we aren't back to pre-pandemic FAFSA completion, the more we can restore pre-pandemic levels of advising, the college-going milestones will likely follow."
Bill DeBaun
Senior Director of Data and Strategic Initiatives, NCAN