Institutions Nationwide Reengaging "Some College, No Degree" Students
Each year, roughly two million students enter postsecondary education, however, eight years later, one-third of those individuals are no longer enrolled and have not earned any formal credentials. According to the
National Student Clearinghouse Research Center's Some College, No Degree report
, more than 36 million Americans hold some postsecondary education but have not completed and are no longer enrolled.
What the Data Suggests
The data also shows that these former students without credentials are nearing middle age with a median age of 39 to 42. Additionally, 10 percent of the population or 3.5 million individuals, have a high potential to attain a credential because they already have finished two years of full-time over the previous 10 years.
How Institutions are Responding
Institutions across the country are taking note and are successfully reengaging learners with "some college, no degree," according to different announcements. The Community College of Denver (CCD) launched a program for students returning to finish their degrees. They recognized the needs and concerns of their students, included breaks, high tuition costs, other expenses, and confidence issues. As a result, CCD students can pay a monthly fee and receive online options, self-paced courses, easy start/stop options, and one-on-one tutoring and support services. As another example, the University of North Carolina System contacted stopped out students to offer coaching and support to those interested in resuming studies. The pilot program reached out to 2,000 stopped out students and resulted in more than 1,200 students reengaging. UMass Online recently renewed its focus on providing new and expedited pathways to degree completion opportunities for those with prior college credit.
Meeting Postsecondary Attainment Goals
"Engaging stopped out students and helping them return to higher education, complete their degrees and gain the skills and credentials necessary for a sustainable career is one of the best investments we can make," said Eric Fotheringham, director of strategic academic initiatives at the University of North Carolina System, in a press release about their effort.
To reach a state's postsecondary attainment goal or to address enrollment challenges facing institutions, each state should identify how many "Some College, No Degree" students are residing in the state, which students are most likely to return, where they last enrolled, where they are most likely to re-enroll and graduate, and what type of credential they are likely to pursue. Institutions who invest in and take a deep look at the obstacles this population is faced with and offer solutions to overcome them are at an incredible advantage in reengaging this population and future learners.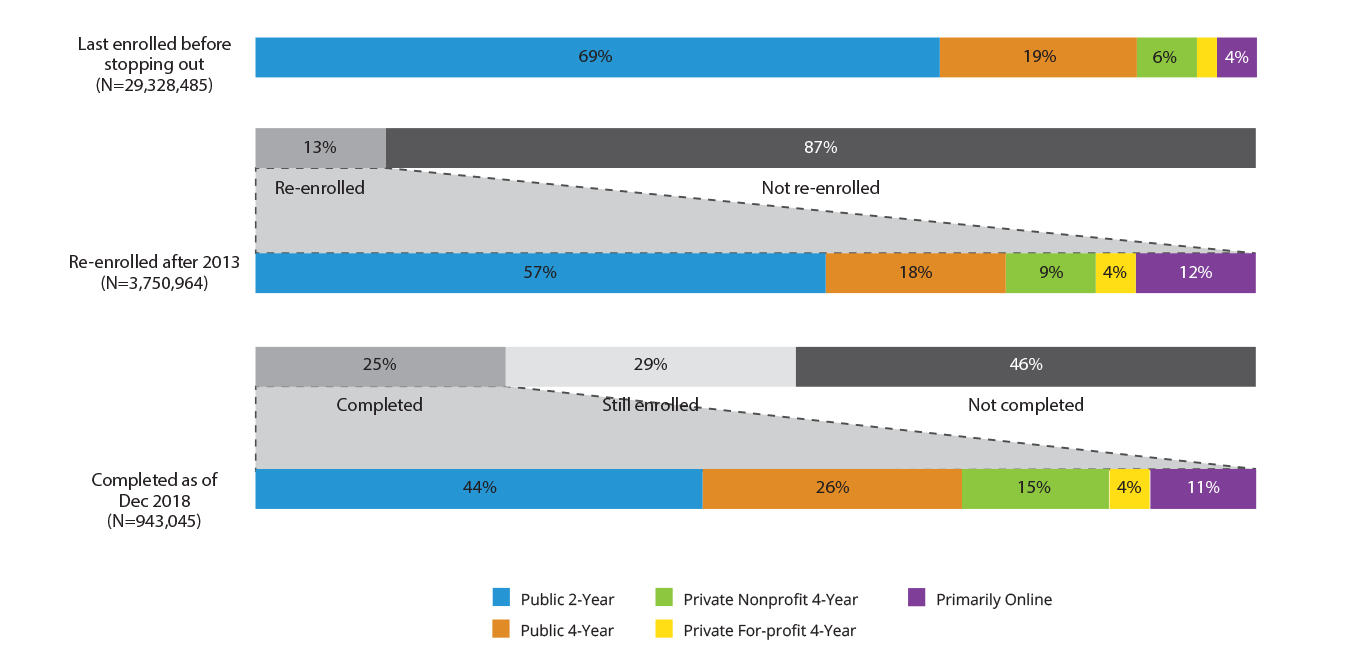 Some College, No Degree Students' Re-Enrollment and Completion by Institution Type
"Engaging stopped out students and helping them return to higher education, complete their degrees and gain the skills and credentials necessary for a sustainable career is one of the best investments we can make."
Eric Fotheringham
Director of Strategic Academic Initiatives, University of North Carolina System