College Enrollment Declines 603,000 to 16.9 Million Students
Steepest Enrollment Drop in a Decade
This spring's overall college enrollment fell to 16.9 million students from 17.5 million, marking a one-year decline of 3.5% or 603,000 students, according to a new report by the National Student Clearinghouse Research Center. This is seven times worse than the decline a year earlier, and the largest decline in year-over-year percent change and student headcount since spring 2011, which is the first year the Research Center published enrollment data. The second steepest enrollment decline was recorded in Fall 2020.
Undergraduate students accounted for the entire decline, with a 4.9% drop or 727,000 students. In contrast, graduate enrollment jumped by 4.6 percent, adding more than 124,000 students. While every institution sector saw undergraduate enrollment dip this spring, community colleges remain hardest hit by declining 9.5% or 476,000 fewer students. More than 65% of total undergraduate enrollment losses occurred in the community college sector.
"The final estimates for spring enrollment confirm the pandemic's severe impact on students and colleges this year," said Doug Shapiro, Executive Director, National Student Clearinghouse Research Center. "How long that impact lasts will depend on how many of the missing students, particularly at community colleges, will be able to make their way back to school for the coming fall."
Learn more by reading the press release and the Spring 2021 Current Term Enrollment Estimates report.
Top 5 States with Largest One-Year Decreases by Enrollment Numbers: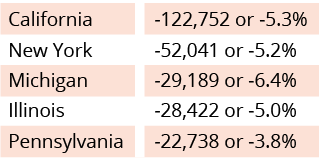 "How long (the pandemic's) impact lasts will depend on how many of the missing students, particularly at community colleges, will be able to make their way back to school for the coming fall."
Doug Shapiro
Executive Director, National Student Clearinghouse Research Center