3 Keys to Meeting Education's Data and Service Needs
The Clearinghouse: Your Partner in Better Student Outcomes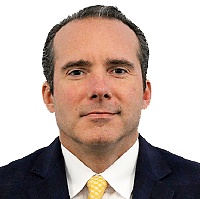 Enrollment and retention have always been top priorities for higher education institutions. Yet, these priorities became even more critical when the pandemic hit.
Understanding the needs of colleges and universities have changed significantly over the past two years. The National Student Clearinghouse has taken a hard look at how its data and services are helping institutions, as the nation recovers from Covid. Pepe Carreras, Vice President of Education Solutions, shares how the Clearinghouse is adapting its products and services to support further higher education's needs.
1. Placing enrollment at the forefront of our efforts.
At the Clearinghouse, we are keenly aware that drops in enrollment mean more than just fewer students attending a school. It means the potential for less funding and resources. So, we are working to ensure that our data collection, capture, intake, analysis, and synthesis are much more actionable so that schools can use this information to find innovative ways to increase enrollment.
2. Developing more strategic partnerships.
We are partnering with organizations that can accelerate our mission and be an essential resource to the constituencies whom we serve. For example, we have partnered with technology companies to help with content aggregation, disseminating enrollment credential information expeditiously, and improving other essential Clearinghouse functions, such as enrollment reporting. We have also worked to convene the right groups so that we can have meaningful conversations that can positively impact the education landscape.
3. Doubling down on Clearinghouse data efforts.
Across the country, as schools face a more challenging environment to recruit and retain students, academic data is essential to help schools assess performance, reduce administrative costs, and make strategic decisions. For nearly 30 years, the Clearinghouse has been the largest repository of student enrollment data, and our desire is to do more with this data. Ultimately, our goal is to help institutions interpret data and translate it into actionable insights to attract, retain, and graduate more students.
The Clearinghouse is your partner for research and other services so you can focus on enrollment, persistence, retention, and your mission. What issues take time and resources away from your school and colleagues? How can the Clearinghouse's data help solve these challenges and others?
We look forward to continuing to serve your institution with better products and services today and in the future. Please contact your regional representative to share your needs and ideas with us. We look forward to talking with you!
"Ultimately, our goal is to help institutions interpret data and translate it into actionable insights to attract, retain, and graduate more students."
Pepe Carreras
Vice President of Education Solutions