myFootpath and Clearinghouse to Reengage More than 39 Million Students with Some College, No Credential
More than 39 million Americans have some college, but no credential, according to the National Student Clearinghouse Research Center. The "some college, no credential" population is up 3.1 million from nearly 36 million previously reported in 2019.
To help bring these people back to college and earn a credential, the National Student Clearinghouse and myFootpath are partnering to help these students earn a credential.
Under this partnership, myFootpath will bring the Clearinghouse's StudentTracker Premium Service to colleges and universities, at no charge to the institution, to provide secure, dedicated access to university datasets. These datasets unlock myFootpath's Operation ReEngage service, which reengages students to re-enroll in college and guide adult students through graduation.
"As one of the most important areas of rising focus to many sectors of higher education, the National Student Clearinghouse actively seeks partners like myFootpath, who are working to bring students who have some college and no credential back to college, to ultimately try and help them graduate," said National Student Clearinghouse President and CEO Rick Torres. "They align with our mission and work to improve student outcomes, and we are thrilled to partner with myFootpath in their work."
"While many universities' institutional research offices have overseen these datasets for years, there's often a disconnect between institutional research and the enrollment leaders who need to turn the datasets into actionable insights to drive student recruitment goals," said JT Allen, President & CEO of myFootpath. "In our work with universities and colleges throughout the nation, we focus on collaborative ways to empower leaders to act. We offer a powerful new method to bring speed and scale to these efforts."
Additionally, National Student Clearinghouse partners need to go through a rigorous data security evaluation process, which requires background checks, security clearance, and additional training of staff.
"myFootpath has always taken data security very seriously and had protections in place for data access, but the Clearinghouse process added additional rigor that will make these systems even stronger while we empower our clients," said Dr. George Rohde, who leads Student Success and Research for myFootpath. "We work with many universities' technical departments, and they have responded favorably when we've described the data classification system, how we manage network/device access, and how we easily stratify access to employees that 'need to know.' It's made filling out things like the Higher Education Community Vendor Assessment Toolkit questionnaire a breeze."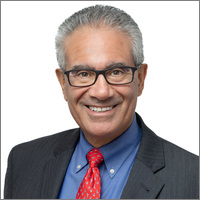 "…the National Student Clearinghouse actively seeks partners like myFootpath, who are working to bring students who have some college and no credential back to college, to ultimately try and help them graduate."
Rick Torres
President and CEO, National Student Clearinghouse