North Central Missouri College and Students Succeed with Help from StudentTracker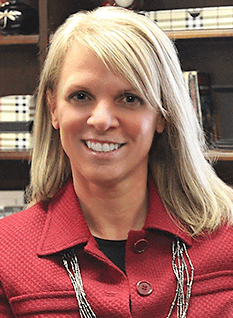 By Dr. Kristen Alley, Associate Vice President for Student Affairs, North Central Missouri College
This year marks the 92nd commencement ceremony and the largest in the history of North Central Missouri College with 515 degrees and certificates awarded in arts in teaching, in applied science, and general studies to 484 individual graduates. The average age is 25.7 with the oldest graduate being 63 and the youngest 17. Graduates come from Alabama, Iowa, Kansas, Missouri, New Jersey, New York, Ohio, Rhode Island, Texas, Wisconsin and from other countries, including Curacao, England, Honduras, The Netherlands, and Scotland.
The National Student Clearinghouse's StudentTracker® information helps North Central Missouri College, which is in rural Missouri, improve collectively as an institution, as well as in the individual services we provide to our students.
We have utilized StudentTracker to identify top transfer institutions for our students, as well as the degrees the students pursue at those schools.
StudentTracker is the only nationwide source of college enrollment and degree data. More than 3,600 colleges and universities — enrolling more than 99 percent of all students in public and private U.S. institutions — regularly provide enrollment and graduation data to the Clearinghouse. Through StudentTracker, you can query your student data to perform all types of educational research and analyses — quickly, easily, and affordably.
At a 2019 board meeting, I presented our Clearinghouse StudentTracker File report, which found a total of 159 graduates — 40 percent — transferred to other institutions from the Fall 2017, Spring 2018 and Summer 2018 semesters. Of those students who transferred, the majority, 40 percent, enrolled at Northwest Missouri State University; 14 percent chose Missouri Western State University; 14 percent enrolled at the University of Missouri-Columbia; three percent went to Western Governors University; three percent enrolled at Missouri State University; and the rest transferred to other colleges and universities.
Our Advising Director and her team have researched the admissions requirements at those institutions, as well as the degree requirements. Through StudentTracker research, we developed Academic Maps for those various options. The Academic Map identifies for the student a suggested path for coursework depending upon which institution they plan to transfer and what degree they want to pursue.
This backward planning allows the student to save time and money, choose electives wisely, as well as remove barriers such as excess credits or incomplete schedules, and set them up for a seamless transition to the transfer institution. It also provides a coherent pathway to their ultimate academic goal, which includes completion of a bachelor's degree.
StudentTracker allowed us to follow our Fall 2015, Spring 2016 and Summer 2016 cohorts, which showed 18 percent of the graduates transferred and completed a bachelor's degree. Most students — 30 percent — graduated from Northwest Missouri State University; 25 percent from Missouri Western State University, 11 percent from Western Governors; eight percent from Truman State; and the rest from other colleges and universities.
StudentTracker data makes it easier to identify post associate of arts degree academic goals of our students, which is often difficult to identify.
We have utilized the information to identify top transfer degrees that have been pursued. With this data, we gained insight that assisted us in the development of meta-majors. Students may not be aware of all degree options or careers available to them but may have a general idea of their interest areas.  Because of StudentTracker, we assist students in aligning their career goals with their educational goals.
The meta-major concept allows us to expose students to a variety of career tracks, while still maintaining clear pathways to graduation. This work resulted in NCMC being invited to participate in a state-wide pilot program, called Missouri Guided Pathways, to share our experiences and implementation of the meta-majors concept. NCMC plans to continue building on the program and learning communities centered around meta-majors.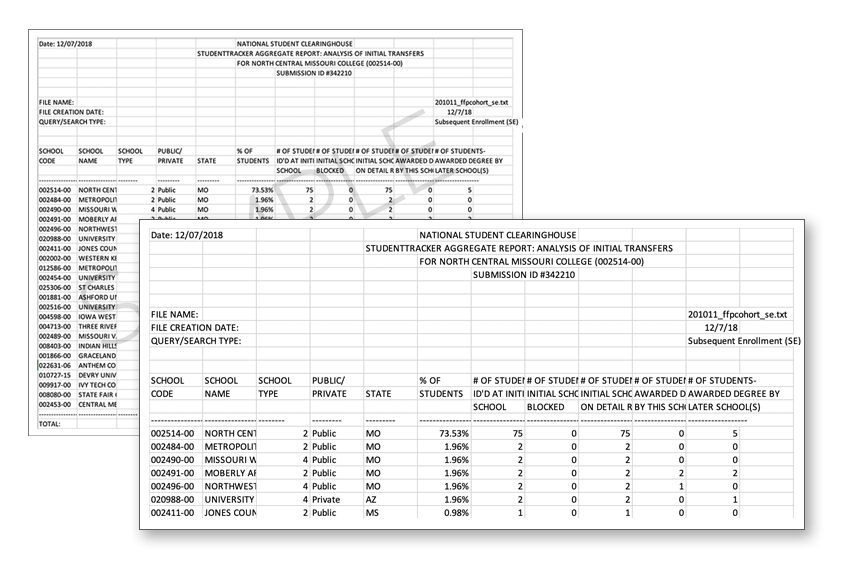 StudentTracker data allows us to continue to monitor top transfer institutions, as well as the most popular transfer degrees.
StudentTracker helps identify potential articulation agreements with those transfer schools, as well as agreements specific to degree paths. As a result, we have created resources that allow students to easily research specific agreements and course equivalencies, as well as transfer scholarships.   
Identification of top transfer institutions has allowed us to contact those schools and develop more in-depth partnerships that benefit students. Most recently, we developed a partnership with Northwest Missouri State University, in which students receive preferential enrollment, free transcript exchanges, services and programs at both institutions. These partnerships encourage consumer-wise students to make the most of their educational dollar and set them on a successful career path with little to no debt!
Our StudentTracker report is utilized by the Advising Department, Registrar's Office, Institutional Research, Academic Affairs, Cabinet, Board and other areas throughout campus to help NCMC be successful and most importantly our students.
"The National Student Clearinghouse's StudentTracker information helps North Central Missouri College, which is in rural Missouri, improve collectively as an institution, as well as in the individual services we provide to our students."
Dr. Kristen Alley
Associate Vice President for Student Affairs, North Central Missouri College