Meet Jerry Miller, Security Analyst, Information Security
Ensuring the Confidentiality, Integrity and Availability of Clearinghouse Data
Our Clearinghouse Connections series offers you a more intimate look at the National Student Clearinghouse by introducing you to our people and the work they do. Today, meet Jerry Miller, who helps the Clearinghouse remain a trusted partner to the higher education community.
Jerry Miller joined the National Student Clearinghouse three years ago as a Security Analyst in the Information Security department, which is responsible for network, data and system security across the organization.
Jerry's team, Information Assurance and Auditing (IAA), maintains, develops and improves security policies, processes, training, and industry and government compliance documentation. A large percentage of IAA's workload involves handling third-party assessments and audits that come from Clearinghouse clients and customers.
"One of the most rewarding aspects of my job is showing assessors and auditors all of the tools and processes that everyone at the Clearinghouse has helped to work on and put in place to ensure the confidentiality, integrity and availability of Clearinghouse data," said Jerry. "Everyone at the Clearinghouse does their part to make the security program work, and it is a true pleasure to show off the end result of everyone's hard work and due diligence."
Some of his colleagues may not know that Jerry's career almost took a very different trajectory years ago. "I enjoy landscaping. At one point, I was a landscape technologies major in college and was offered a job to work on the grounds crew at Camden Yards, which is the stadium of Major League Baseball's Baltimore Orioles. My goal at that point in time was to become a professional groundskeeper at a major golf course."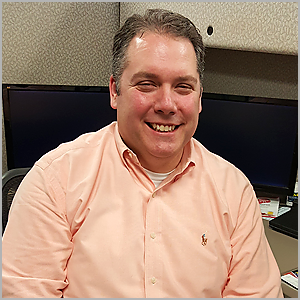 Jerry helps ensure the confidentiality, integrity and availability of Clearinghouse data.
"Everyone at the Clearinghouse does their part to make the security program work, and it is a true pleasure to show off the end result of everyone's hard work and due diligence."
Jerry Miller
Security Analyst, Information Security