High School Benchmarks Report Released; Learn How to Compare Your School with the Benchmarks Report
According to the fourth annual, High School Benchmarks Report: National College Progression Rates, 45 percent of students graduating in the class of 2009 from higher-income high schools completed a college degree by 2015, compared to 24 percent of students from low-income schools. Low-income schools have more than half of the students eligible for free or reduced lunch prices.
Furthermore, students from low-minority high schools were more likely to enroll in college immediately than those from schools with higher minority populations, 68 percent and 57 percent, respectively. For high-minority high schools, this gap of 11 percentage points in enrollment rates becomes a 20 point gap in completion rates six years later: 48 percent of students from low-minority high schools finished a degree within six years, compared to only 28 percent from high-minority schools.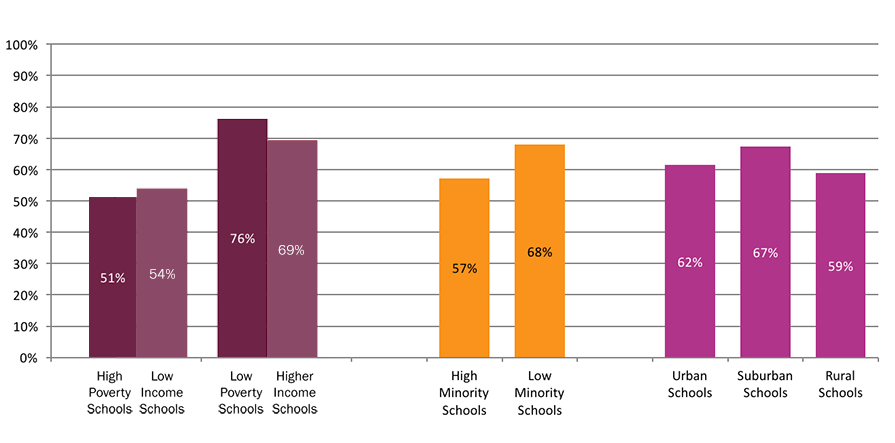 College Completion Rates Six Years after High School Graduation, Class of 2009, Public Non-Charter Schools
"After finishing high school, entering college and earning a degree are the next critical steps to reaching the levels of education that the 21st century demands," said Doug Shapiro, Executive Research Director, National Student Clearinghouse Research Center. "But those steps are insurmountable barriers for too many students, particularly those from schools with high concentrations of low income and minority students. These national benchmarks, combined with comparable data for their own schools, enable communities and educators to pinpoint areas of concern and work more effectively to improve outcomes for all students."
The report, released by the National Student Clearinghouse® Research Center™, presents a range of postsecondary outcomes for five high school graduating classes (2009, 2012, 2013, 2014, and 2015). The data covers public and private high schools from all 50 states and from the majority of the 100 largest districts in the United States. It includes more than 25 percent of all public high school graduates each year, or nearly five million graduates in total.
"These national benchmarks, combined with comparable data for their own schools, enable communities and educators to pinpoint areas of concern and work more effectively to improve outcomes for all students."
Doug Shapiro
Executive Research Director, National Student Clearinghouse Research Center