Clearinghouse Spotlight: Dan Markowitz, Data Integrity & Operations Manager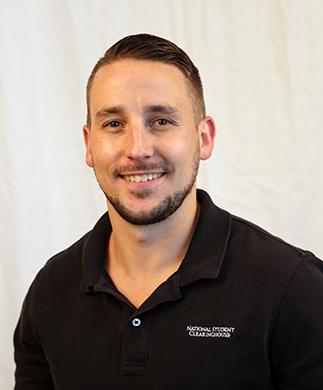 Our Clearinghouse Connections series offers you a more intimate look at the National Student Clearinghouse by introducing you to our people and the work they do. Today, meet Dan Markowitz, who is the Data Integrity & Operations Manager at the Clearinghouse.
Q: How long have you been with the Clearinghouse, and what is your role?
A:  I've been working for the Clearinghouse for 10 years. I am the manager of Data Integrity & Operations, which means I oversee enrollment and compliance reporting. I work with our operations team to ensure we are processing enrollment data accurately in a timely manner. In addition, I oversee the Audit Resource Center, where we assist schools that have audit/compliance issues. I also oversee StudentTracker® operations, which requires me to work closely with our product management team.
Q: What is your background in higher education?
A:  My background in higher education started after I graduated from West Virginia University in 2007 and began working at the Clearinghouse. I've had the opportunity to work in a variety of departments. I began my career in our Degree Verification department, then moved to the Research Center working with StudentTracker. For the last three years, I have been supporting our enrollment/compliance department.
Q: What does audit season mean for schools, and how does the Clearinghouse help?
A: Audit season is typically a stressful time for schools. The Clearinghouse's Audit Research Center is a free service for schools that allows our organization to support schools before, during, and after an audit. Our main goals are to eliminate and reduce potential audit findings, as well as work with schools to ensure they are clear on the compliance reporting processes and regulations.
Q: What's your favorite aspect of your job?
A:  My favorite part of my job is working with our schools to try and help them understand the enrollment and compliance reporting process. The process is very complex, so our job is to make sure schools are clear on what needs to be done to be successful in the ever-changing compliance reporting environment. I get the most satisfaction when I can walk away from an interaction with a school knowing they have a firm understanding of any issues or concerns. I am also appreciative to work with the folks at the Clearinghouse!
Q: Outside of the Clearinghouse, what do you like to do for fun?
A:  Outside of work, I love to spend time with my fiancé and our three dogs. We enjoy getting outside and enjoying the beautiful views in Virginia. I am also a huge football fan, so I love being able to follow West Virginia University and the Buffalo Bills.
"I get the most satisfaction when I can walk away from an interaction with a school knowing they have a firm understanding of any issues or concerns."
Dan Markowitz
Data Integrity & Operations Manager